Walk and picnic with Alpacas – £35 per alpaca (up to 2 people)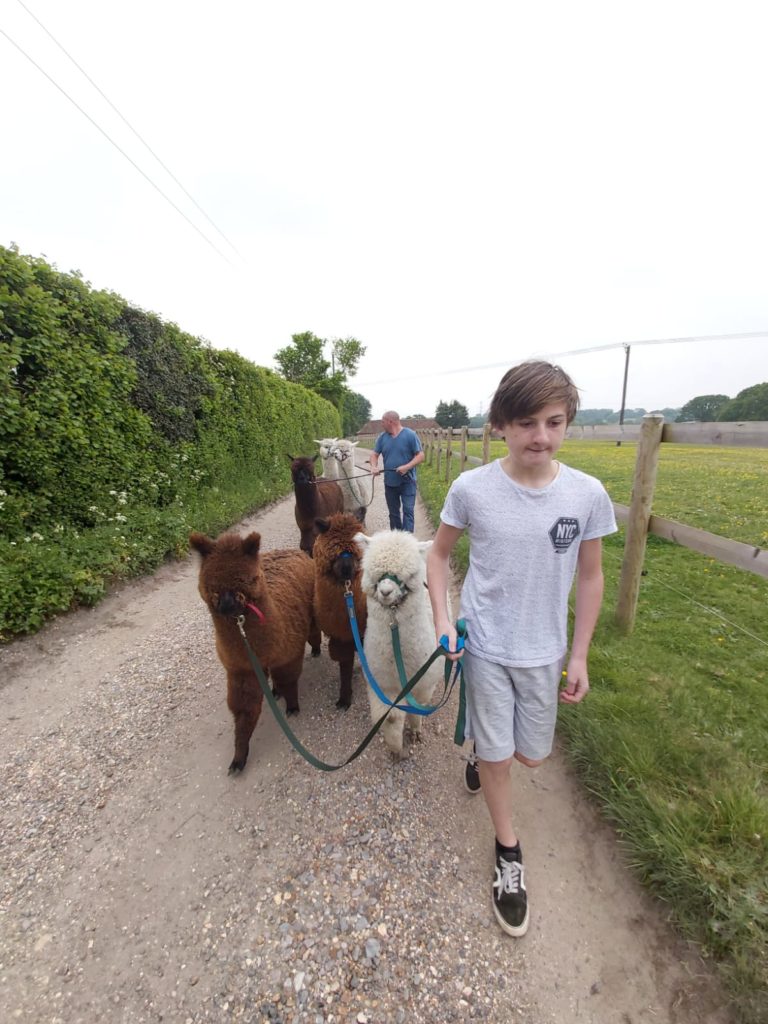 Every session starts with a health and safety briefing. After spending a little time admiring their cuteness, we halter up and let you walk your favourite alpaca through our farm grounds, before returning to the field where you can offer your walking buddy some treats. After a little more time petting, its time to set them free in the field! Enjoy your picnic either at our picnic tables or on your rug (please bring your own), and enjoy as much engagement and photo time with the lovely boys as you would like. Our field is roughly an acre so you will always be somewhat close to the alpacas and they can be quite curious creatures so our experience lends itself well to being a more intimate and hands on experience compared to others. Our staff will encourage safe engagement and will show children how to stroke the alpacas etc.
Children under 12 must have an adult to help them walk the alpaca. We do not provide the picnic so please bring your own. We do not allow spectators
Family picnic with alpacas – £60 for a family of up to 6 people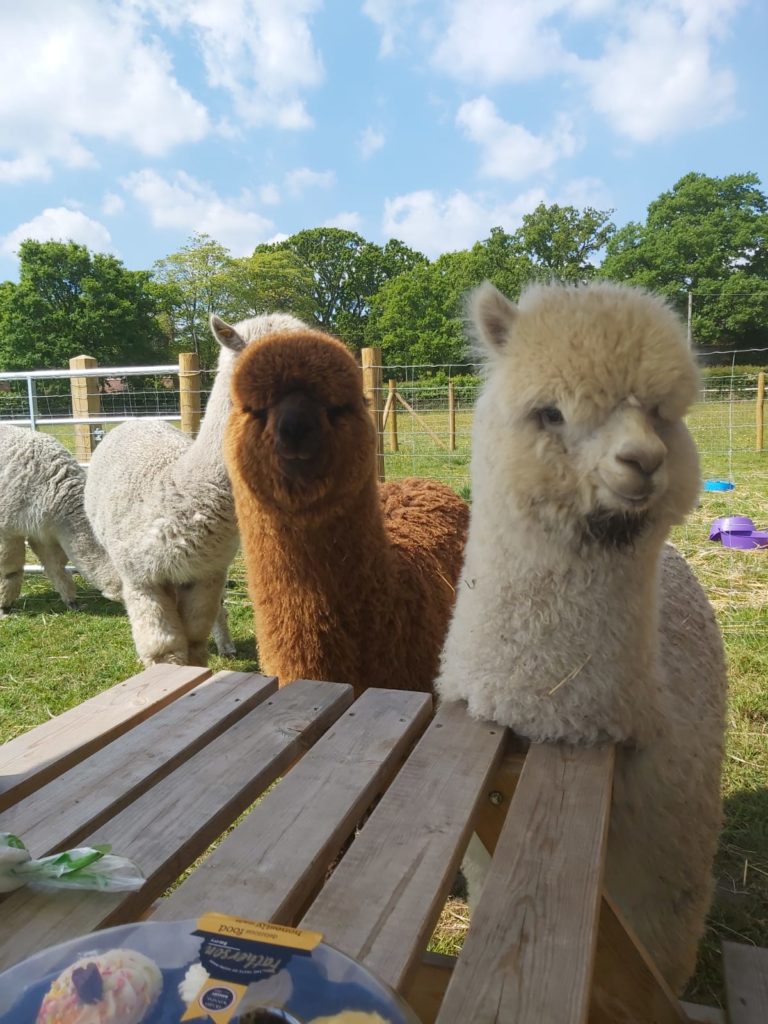 Enjoy a picnic at our tables and spend the full session engaging with these inquisitive creatures. Treats to hand feed will be provided and they are always intrigued by whats going. Our staff will be on hand for questions and to assist with getting to know the alpacas. A great option for those with larger families, young children and those with walking difficulties. This is not an exclusive experience and there may be up to 4 families, each with their own table. We do not allow extra spectators
Sessions for customers with limited mobility & OAP sessions – £15 per person (carer is free of charge)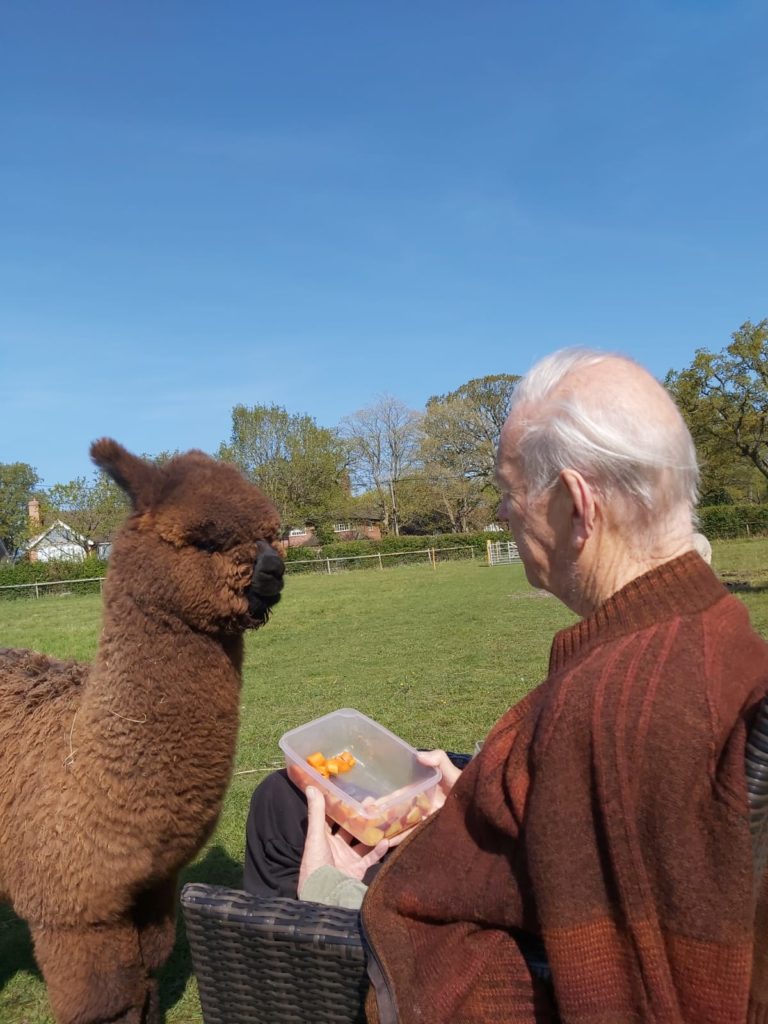 Come along and enjoy these marvelous creatures from our comfortable chairs in the sunshine! Hand feed and stroke them as they gather around you. Optional chair exercises whilst enjoying the peace and quiet and the beautiful surroundings. For those able to confidently walk, please feel free to mingle in the field with the alpacas, or for those who prefer the comfort of taking a seat, we can bring the alpacas to you for petting and feeding treats. We have an accessible toilet very close to the picnic tables.We do not allow spectators other than the one carer.
Sessions for children with autism – £25 per child (parent/carer is free of charge)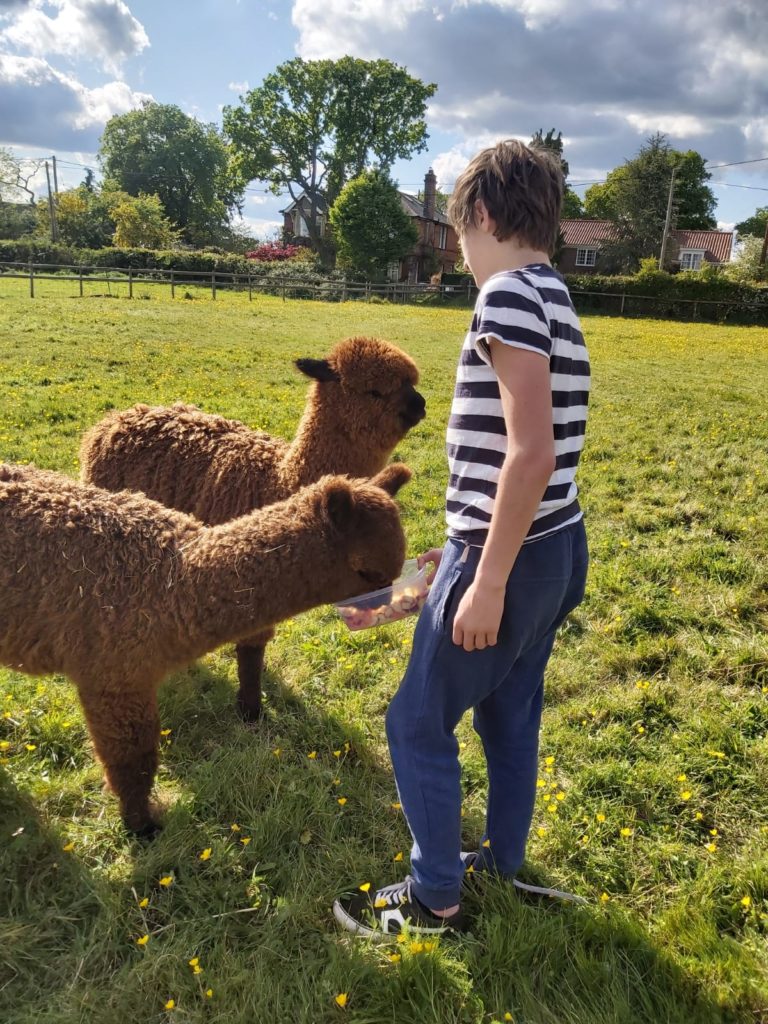 Alpacas are known for their therapeutic abilities. These sessions are specifically designed for children with autism and/or other special needs. The alpacas will not be walked during these sessions, and there will less structure and more 'free time' for the children to explore at their own pace. They will be able to fed them. The parents are welcome to take part or take a seat at our picnic benches and relax as you watch the kids interact with the animals(or a bit of both)! By having these special sessions, we hope it will bring some element of freedom to both the adults and kids, and the less structured approach is really nice for everyone just to feel totally at ease. Bring a picnic if you wish and enjoy! Maximum group size is 10 . ** If you wish for siblings to come along, please select "add an extra booking "and select the number of children you wish to add.
Alpaca yoga
coming soon!…..
Care home/hospital/school visits
Known for their calming nature, we can bring these beauties to meet your residents/pupils. 2 carefully selected alpacas will come and delight your residents/pupils. Please contact us to discuss your requirements.
Weddings
Why not have our adorable boys at your wedding for additional wow factor?! Who wouldnt love these beauties in their wedding pictures to cherish forever. We offer various packages, so please contact us to discuss your preferences.
Bronze package – 2 alpacas, 2 hours. The alpacas will be admired by your guests as they take selfies and feed them their treats within their pen(must be outside). Treat bags 30p per bag, please let us know in advance how many you require.
Silver package – 4 alpacas, 3 hours. The alpacas will be taken around your guests for selfies and treats! They will mingle with the guests and are sure to be the show stoppers!
Gold package – 4 alpacas, 4 hours. The alpacas will be available for photos with the bride and groom, as well as the wedding party and guests. Outdoor ceremonies have the option to add ringbearer duties if the premises are deemed suitable and safe for an additional £100.